Three Countries Tour
23-24 November 1996
This tour was put on by Enjoy tours of Kaiserslautern, Germany.
I was supposed to meet a shuttle bus to take me to Kaiserslautern. This bus was across town from my hotel. I have a borrowed bicycle for transport, and a city map. So I headed out to find the rally point, only to get considerably off of track before I changed course. By the time I arrived (11:30 P.M.) the bus was gone. I called the tour company and they informed me that the actual tour bus would be headed back towards Heidelberg so they came back through town and grabbed me.
We had a large touring bus, and a guide named Bill. Bill is an expatriate American from Mississippi who has been in Germany for 27 years. He now makes a living as a tour guide, and has travelled quite a bit through Europe. The basic route was to leave Germany late at night and arrive in Leichtenstein in the early morning. Then on into western Austria for the night. The next morning we went into Switzerland followed by a stop in the Black Forest in the evening. Then back through a bit of France to our points of origin.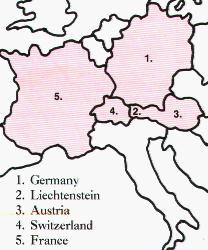 ---
Liechtenstein

Liechtenstein is a tiny principality located in central Europe between the countries of Switzerland and Austria. Originally it was part of the Hapsburg Empire. A small portion of the empire consisting of 63 square miles of alpine terrain was given over to a Prince. This area operated more or less autonomously until the Hapsburg empire crumbled after WWI. The prince decided to ally himself with Switzerland. Switzerland agreed to protect the tiny principality in exchange for a close economic relationship.

The people of Liechtenstein speak German and use the Swiss Franc as their currency.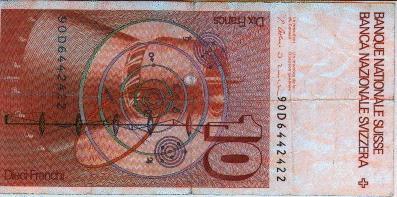 There are only 26,000 citizens in the country. They have some food processing and light industry, including the famous Hilti power tools to supplement their agriculture and tourism industries. They have less than 5% unemployment and have to import workers from Austria for some jobs.
After a short breakfast stop in Switzerland, we entered Liechtenstein. We arrived early in the morning as the sun was rising over the Alps. Our first stop was the ski resort of Malbun. There was snow all around and it was quite windy. We stopped in a nice cafe for hot chocolate and coffee to see if their chairlift to the top of the peak was operating. It turns out that this was the time of year when the staff of the resorts takes a break to prepare for the winter season. So after a brief look around, we began descending the mountain.
We stopped for a brief and lovely photo shoot of the picturesque valley leading to the capital city, Vaduz, which was framed by snow capped Alps. We descended into Vaduz for a brief shopping and sight seeing stop. Vaduz is a lovely rustic town of only a few thousand people. The architecture is ornate and very Alpine/Central Euroean looking, but with very steeply pitched roofs to shed snow. Some of the town's buildings are very modern, but many are of the older traditional style.
I stopped in a grocery and bought some chocolate and then headed over to the post office for a couple of stamps. Liechtenstein is famous for its lovely and colorful stamps.


This is a post card stamp that will get a card back to the U.S., it costs SF1.10.
We left Vaduz and headed off to Austria.
---
Austria

Austria, or Osterreich in German, was the center of the Hapsburg Empire, also known as the Austrian or Austro-Hungarian Empire. This Empire grew out of the Holy Roman Empire and was headed by the Hapsburg family. They had a very long rule and controlled much of central Europe until the end of WWI. They controlled what is now Austria, Hungary, Switzerland, Liechtenstein, The Czech and Slovak Republics parts of the following countries: Germany, Poland and the Yugoslavian Republics.

Austria has well established industry and abundant natural resources. The people speak German, and there are close ties between their people and the Germans. The country is about the size of Maine with 9 million people. They use the Schilling as their unit of currency.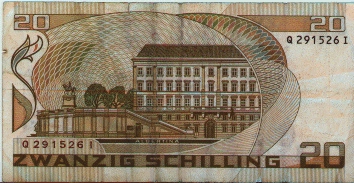 Currently US$1 = OS10 (OS = Osterreich Schilling)
We enterred Austria at the small town of Feldkirch. Feldkirch is an old city of several hundred years with a couple thousand citizens. The city is along a branch of the Rhine River.
We first ventured down town for some sight seeing and shopping. The main streets of down town have covered walkways which are used as out door bazaars during weekends. I stopped at a street vendor who was cooking in a giant fry pan. it turns out that it was omlettes, so I bought a slice (DM 4) and sat down for a leisurely snack. At noon we regrouped for our castle tour.
Within the city is the 12th Century Schattenburg Castle. This castle was one of many in the Empire, and was significant militarily from the 12th through the 18th Centuries. We were given a rather nice tour of the building. Like many castles, this one had been added on to several times during its life. The central keep is the oldest, with the other rooms added, including one turret, in later years, up to the 16th century. By the middle of the last century, it had fallen into disrepair, and was bought the city. It was turned into a museum.
Several rooms were dedicated to artifacts from the periods of time the castle was in use. Lots of interesting Renaissance artifacts, many religious, filled the rooms. Furniture, like slate tables and old chairs were featured in the rooms.
Of particular note was a room filled with historical pianos. Beginning with Harpsichords through the modern pianoforte, the collection also included a mini piano called the Mozart model which was portable and could be taken on picnics.
The chapel of the Castle had been extended and then divided into three rooms, and there was a model of the "Christ Child of Prague" a famous wax doll sculpture given by an artist from Feldkirch to the Hapsburg regime which at the time resided in Prague. The original Child has 12 outfits and is displayed during the holidays in Prague. The model in Feldkirch was made by the sculptor to demonstrate his final product.
Within the tower of the castle is a collection of smallarms, beginning with matchlock muskets, but mostly focusing on the 1870-1945 period. Many Mauser rifles. Pistols from all over Europe. Examples of most all of the significant European military rifles are displayed in racks. They were collected by three gentlemen from the town from 1928 to the mid fifties.
We were in luck in that they were having their first of what they hope is an annual market festival inside the tower. One specialty was the Gluewein, which is warm spiced Burgundy. Very tasty, a great way to warm up on a cold November day, and the price (DM8) includes the stoneware mug.
We left Feldkirch and travelled Northeast to Bregenz, which is on the southeast corner of Lake Constance (Bodensee). This is a large lake (3 times larger than Liechtenstein!) formed naturally along the course of the Rhein River.
Bregenz is a resort town, and features several Casinos including one in our hotel. I didn't attend because men are required to wear a tie. We checked into the Hotel Mercure, a 4 star resort. I had a room to myself (for which I paid a supplemental $40.00 because there weren't enough folks to get a roomie). The room was huge, and looked over the driveway awning, so I used that as my "patio" and strolled around.
We arrived around 4 in the afternoon, and I decided to take a nap. I woke in time for a group of us to head to a local restaraunt, led by our guide. It had begun to snow by then, covering the lawn and the streets with a fine powdery snow that stuck heavily to the streets. In places there was ice, but mostly it melted to water rather than refreezing.
The food was great and Bill seemed to be a regular there. After a beer and a nice dinner of venison stew, most of the crowd headed back to the hotel. Bill & I decided to stay and talk. We swapped tales a bit with the locals (mostly Bill, my German is terrible) and talked untill 11:00 when we headed back.
After watching a bit of a dubbed Lou Diamond Phillips movie, I called my family back in Texas. This part of Europe is 7 hours up on Central Standard time, so it was evening in Texas. After a nice 10 minute conversation, I sacked out.
Wake up was at 7:00, but I immediately rolled over and went back to sleep until 10 minutes before we were to board the bus. I washed up, jumped into fresh clothes and was off to the checkout counter. Much to my surprise, I found a bill of OS 480 waiting for me! That was for the phone call, which is outrageous for a 10 minute call.
I grabbed a roll for breakfast, climbed aboard the bus and we were off to Switzerland.
---
Switzerland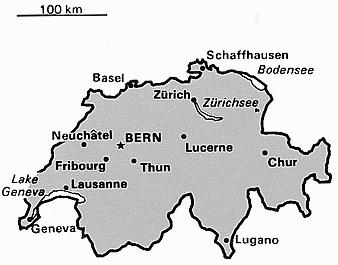 Officially the Confederation Helvetica, Switzerland is a country made up of city states which rallied around the idea of breaking away from the Hapsburg's influence. They have 7 million people in an area twice the size of New Jersey, but 1/2 that of Austria.

Normally in the warm months our tour would take us to the island of Mainau, on Lake Constance. This is a lovely place of palm trees and flowers owned by a Swedish Earl. The Island closes to tours in winter, so we detoured to Zurich.

Zurich is a lovely city, one of the largest in Switzerland, and home to many of the famous Swiss banks. Being a Sunday morning, most of the city was closed. We spent a brief time looking about, then headed off towards the Rhine River.

We headed to the lovely Rhine River community of Stein am Rhine. In days past, it derived much income from the trade along the river and was a working class city. The buildings along the main streets leading to the Rathaus (city hall) are decorated with a variety of painted scenes. Some geometric patterns, or lovely scenes of some event that was important in the city's past. In many cities, these scenes have been painted over and lost, but Stein am Rhein maintains its character, albeit with the help of the government.

I visited a museum there, which was in an old house along one of the main streets. For 5 Swiss Francs, (US$1 = SF1.25) I got to tour around a representation of late 19th century Rhine valley life. The house has 3 stories, including the very spacious attic, with a barn out back with a workshop and livestock (including real birds!). It was a cool place to see how folks lived then.

Our next destination was across the Rhine in Germany.
---
Germany

Germany is larger than the previous two countries in both people and land, being 4 times the size of Austria, with 81 million people.

We stopped at Schaffhausen, a castle that overlooks the Rhine falls. The castle overlooks the high side bank. There is a smaller tower on the low side that was important in collecting tarrifs and transporting boat cargoes around the falls via carts. Gradually the trade in this region dropped off as rail cars and roads made boat traffic in this area of the Rhine unprofitable.

The Rhine Falls are the largest in terms of water volume in Europe. They are not that high, but are lovely to look at. There is a jutting rock formation that splits the flow into two sections. On this spire is an observation platform reachable only by boat. We weren't able to inquire about a ride out there, however...

We pressed on into the Schwartz Wald (Black Forest) This was truly lovely, with fresh fallen snow coating the needles of thousands of pine trees, each at least 100 ft in height. It was spectacular, but there was no safe spot in the road to pull the bus off for a photo.

We came to the small community of Triberg, where we went shopping for Cuckoo clocks at one of the several factory stores in the area. With souveniers safely in hand, we were off, heading through towards the narrow thumb of France that intrudes into Germany in this area.
---
France

We coverred only a small amount of this country, which is 50% larger than Germany, but with only 58 million people.

We hit Strassbourg, a city which has changed hands many times in the last two centuries between Germany and France. We arrived after sunset, and basically made a few highway exchanges, and headed out of town without stopping. The only real difference we saw was in the signs, which were all in French.

We continued on through France, reenterring Germany and then continuing on back to the places we were picked up from.
---
RangeR BoB
Click here to return to my homepage.
---
Send Mail or whatever to rangrbob@bga.com