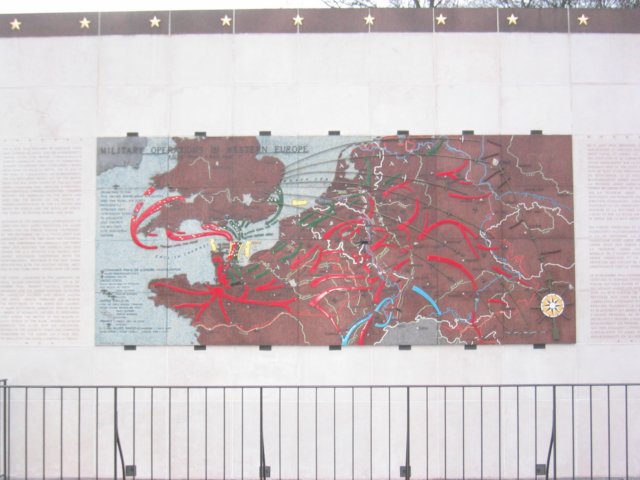 The whole of the European campaign
Flanking the map of operations in Western Europe are explanatory inscriptions in English and French of which the following is the English version:
ON 6 JUNE 1944, PRECEDED BY AIRBORNE UNITS AND COVERED BY NAVAL AND AIR BOMBARDMENT, UNITED STATES AND BRITISH COMMONWEALTH FORCES LANDED ON THE COAST OF NORMANDY. PUSHING SOUTHWARD THEY ESTABLISHED A BEACHHEAD SOME 20 MILES IN DEPTH. ON 25 JULY, IN THE WAKE OF A PARALYZING AIR BOMBARDMENT, THE U.S. FIRST ARMY BROKE OUT OF THE BEACHHEAD AND WAS SOON JOINED BY THE U.S. THIRD ARMY. TOGETHER THEY REPULSED A POWERFUL COUNTERATTACK TOWARDS AVRANCHES. CRUSHED BETWEEN THE AMERICANS ON THE SOUTH AND WEST AND THE BRITISH ON THE NORTH, ATTACKED CONTINUOUSLY BY THE U.S. EIGHTH AND NINTH AIR FORCES AND THE ROYAL AIR FORCE, THE ENEMY RETREATED ACROSS THE SEINE. SUSTAINED BY THE HERCULEAN ACHIEVEMENT OF ARMY AND NAVY SUPPLY PERSONNEL, THE ALLIED ARMIES AND AIR FORCES 16 PURSUED VIGOROUSLY. BY MID-SEPTEMBER THE U.S. NINTH ARMY HAD LIBERATED BREST; THE FIRST ARMY WAS STANDING ON THE THRESHOLD OF GERMANY; THE THIRD ARMY HAD REACHED THE MOSELLE AND HAD JOINED THE U.S. SEVENTH AND FRENCH FIRST ARMIES ADVANCING NORTHWARD FROM THE MEDITERRANEAN. PROGRESS IN THE NEXT THREE MONTHS WAS SLOW AND THE FIGHTING BITTER. METZ FELL AS THE THIRD ARMY MOVED INTO THE SAAR. IN THE ARDENNES, THE ENEMY LAUCHED HIS FINAL MAJOR COUNTEROFFENSIVE ON 16 DECEMBER 1944. PROMPT TACTICAL COUNTERMEASURES AND THE SUPERB FIGHTING QUALITIES OF AMERICAN SOLDIERS AND AIRMEN HALTED THIS DRIVE. DURING FEBRUARY AND MARCH THE WEST BANK OF THE RHINE WAS CLEARED. IN RAPID SUCCESSION AMERICAN FORCES SEIZED A BRIDGE AT REMAGEN, CROSSED AT OPPENHEIM, THEN JOINED THE BRITISH IN THE MAJOR ASSAULT NORTH OF THE RUHR. SWEEPING ACROSS GERMANY, THE ALLIES MET THE ADVANCING TROOPS OF THE U.S.S.R. TO FORCE THE COMPLETE SURRENDER OF THE ENEMY ON 8 MAY 1945, 337 DAYS AFTER THE INITIAL LANDING IN FRANCE.